Summer and Fall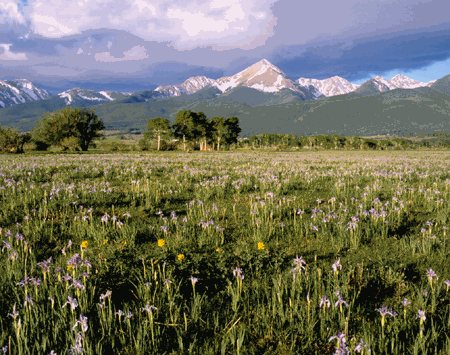 " Wild Iris and the Sangre de Cristo Mountains" Richard W Carson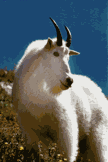 Located on the eastern slope of the Sangre de Cristo Mountains, the temperature averages 70 degrees for most of the Summer. The air is so clear you can see "Forever".... gentle breezes sooth the Soul. If you listen you'll hear the squirrels, rabbits, and occasional elk, bear, or deer. At night listen to a chorus sung by coyotes.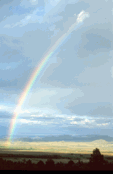 It's a great place to relax or just get away with a good book. Many afternoons mother nature provides us with cleansing showers and Blesses us with spectacular rainbows.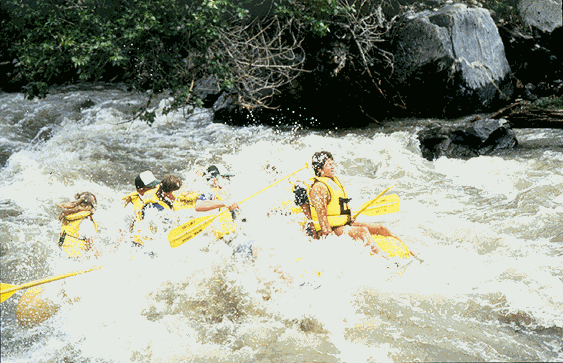 Raft one of the most popular rivers in the world. the beauty and diversity make the Arkansas River ideal for water adventure.
Horseback ride over the rolling hills of the Sierra Mojada range or ride quietly through a herd of buffalo......
Click Here for Horseback Riding Adventures
Westcliffe is a great little Village with old west flavoring and unique galleries and gift shops. Many of the landscape photographs are limited editions by Richard W. Carson, courtesy of Colors of Nature Gallery in Westcliffe.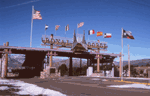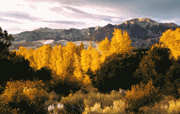 Visit the Royal Gorge and view a chasm from the world's highest suspension bridge (1,053' above the rushing Arkansas River.)
Visit nature only inland Sand Dune at the Sand Dunes National Monument. These dunes extend well up to 1000 feet.
In Colorado Springs visit everything from the natural wonders of the Garden of the Gods to the man made structures of Focus on the Family and the Air Force Academy.
Join in Mountaineering Schools. Get technical with the mountains--all levels of expertise are available.
Click Here for the Sangre de Cristo Mountaineering School
Plenty of Hiking and Mountain biking are available in the area. From flat to steep... you choose your comfort zone.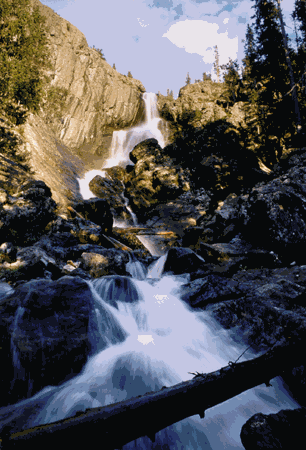 The Rainbow Trail is a 97 mile trail along base of the Sangre de Cristo Mountains. Just about 1.5 miles from the lodge is the North Taylor creek Falls. A wonderful place to spend a peaceful afternoon.
The Comanche/Venable Trail Loop is difficult 1.5 miles beginning at Alvarado campground.
Spectacular scenery, waterfalls, and great fishing are waiting for you at Hermit Basin.
For more trails and Wilderness fishing conditions explore our outdoor adventure guide.
Click Here for the Sangre de Cristo Wilderness Hiking & Fishing Guide
Hermit Basin Reservoirs are catch & release fishing for our guest. Also, you can paddle boat to your Heart's content.
Swimming---Indoors at a wonderful 87o, swimming can be enjoyed year around.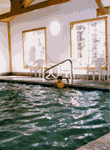 So fill your days with adventure, fine dining and Fun!
[ Need information? ] [Homepage ] [ Lodging ] [ Summer/Fall ] [ Winter/Spring ] [ Conferences/Retreats ] [ Maps ] [ Request Brochure/Reservations ] [ Area Visitors Guide ]