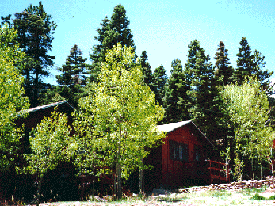 The Alpine Lodge
---
Nestled at the base of the breathtaking Sangre de Cristo mountain range; the Alpine Lodge provides a cultured but relaxed dining experience for the patron. The interior is paneled with rough cut planks of native pine with a large cheery fireplace. In the late afternoon the restaurant is already in the shadow cast by the mountains; yet the large windows allow the patron to gaze upon the Wet Mountain Valley to the East that catches the ever reddening glow of the last rays of the Sun.
The staff of the Lodge are kind and well trained and from our experience strangers soon become Friends. Dinner companions can browse the paintings on the walls from the local artists including Ardith Stewart whose oil paintings have been digitized and are featured in some parts of this Website. Musicians and poets sometimes weave their Magick for the patrons.
The Alpine Lodge is located just off Schoolfield Road about 10 miles Southwest of Westcliffe, Colorado at the base of 13,450' Horn Peak.
You can Communicate with the owners of the Alpine Lodge via e-mail at: mailto:Alpinelodg@aol.com or talk with them on the phone by calling: 1.719.783.2660.
Bon Appetite !
---